Visit the website of the iSkin dermatology office by clicking on – iskin.rs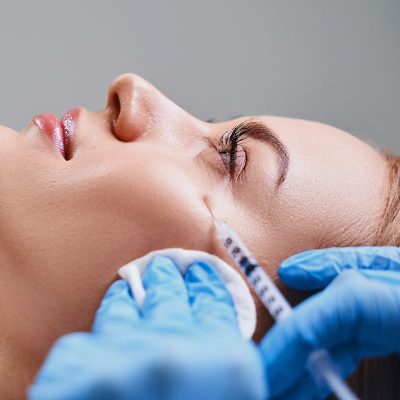 Face, neck, décolleté and hands mesotherapy
Mesotherapy treatment is a minimally invasive procedure used for skin care and skin rejuvenation. The procedure is done by applying the cocktail to the central layer of the skin with thin needles. It is intended for people of all ages (25+) who want to slow down the aging process, get rid of fine lines, and restore hydration to their skin. The treatment is performed in a series of three procedures with an interval of 7-20 days, depending on the condition of the skin and the chosen cocktail. In the iSkin practice, we use only premium cocktails to get the best results.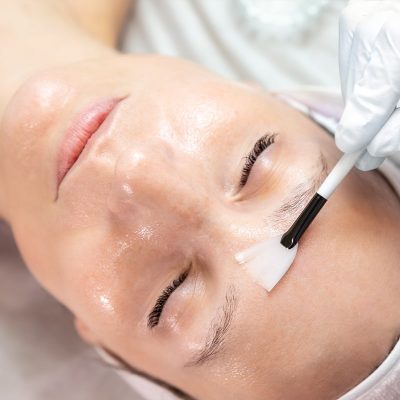 Chemical peels from the company Mesoestetic allow us to create a protocol according to certain indications due to a large number of combinations of acids. The most common indications for peels are acne or sunspots, uneven complexion, loss of radiance, dehydrated skin, enlarged pores, fine lines, and wrinkles. The protocol consists of 4-6 treatments, with an interval of two weeks each. We combine surface peels: lactic, glycolic, salicylic, and mandelic acid with medium-deep peels: Jessner (Hollywood glow), azelan, melanotranex, melanoplus, and acnelan.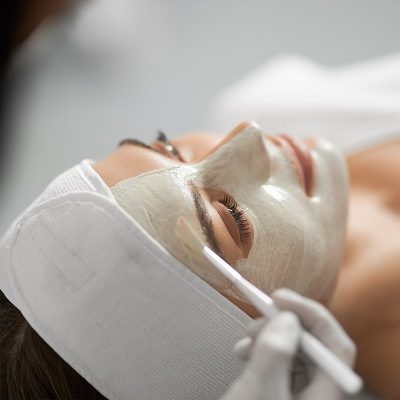 Surface chemical peeling and facial mesotherapy are performed in the same treatment. The effect is immediately visible and is recommended before an important event.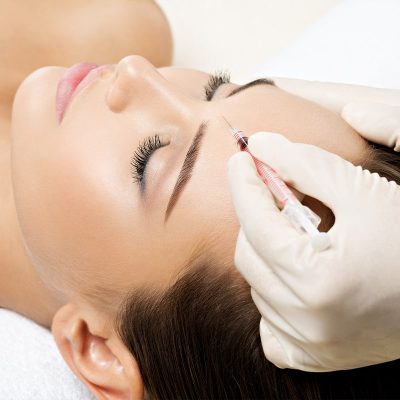 Botulinum toxin, a neurotoxin, is used to alleviate existing wrinkles as well as to prevent the formation of new ones. The preparation is applied in 3 regions – between the eyebrows, around the eyes, and on the forehead to stop facial muscle contractions. The effect lasts four to six months. We use exclusively botox from the company Allergan, the only one registered in Serbia.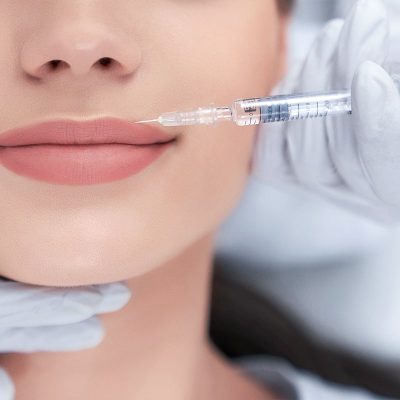 Hyaluronic fillers are a gel-like substance made of hyaluronic acid that is used to remodel the face in the form of correcting a drop in tone, restoring lost volume, enlarging lips, or optimizing certain facial features. Fillers are applied in precisely determined anatomical structures to the depth required to achieve a certain result. The results are visible immediately after the end of the treatment and depending on the treated region last from 6 months to 2 years. Hyaluronic fillers are used to correct the temples, dark circles, cheekbones, nasolabial wrinkles, smoker's wrinkles, lips, marionette lines, the edge of the lower jaw, and the chin.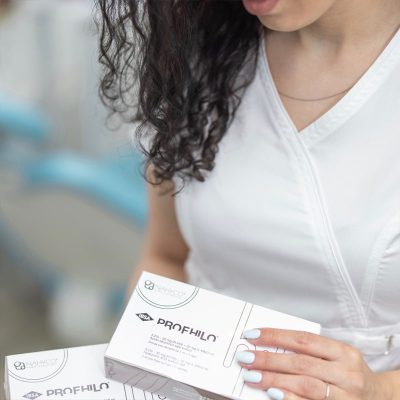 Prophilo is a unique treatment for improving tone, stimulating collagen production, and increasing skin elasticity, which contains pure hyaluronic acid. It is ideal for people between 30 and 45 years old who notice the appearance of wrinkles and reduced firmness. To achieve the desired results, it is necessary to do two treatments with a gap of one month.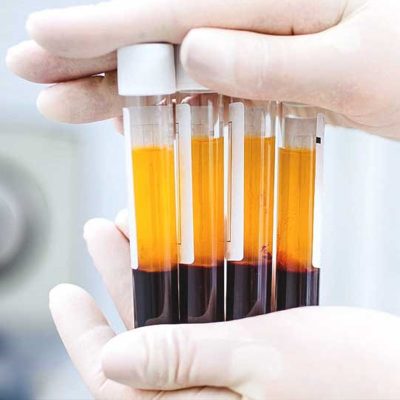 Plasma-rich patent is a completely natural, safe, and effective method by which blood plasma, rich with platelets and growth factors, stimulates the renewal of skin cells obtained from one's blood using a special centrifugation technique. Rejuvenation and stimulation of renewal of all skin structures are achieved. It is necessary to do three treatments at an interval of one month. We offer registered Cellenis sets as well as Cellular matrix PRP sets with added hyaluronic acid.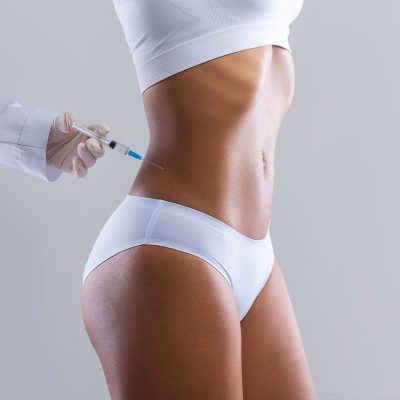 Lipolysis is an injection procedure used to melt fat in a defined region (stomach, hips, thighs, and upper arms). By injecting a cocktail that contains lipolytic into localized fat deposits, the effect of reducing the volume of the treated region is achieved. It is performed for three to four weeks and requires an average of five treatments to achieve the desired results.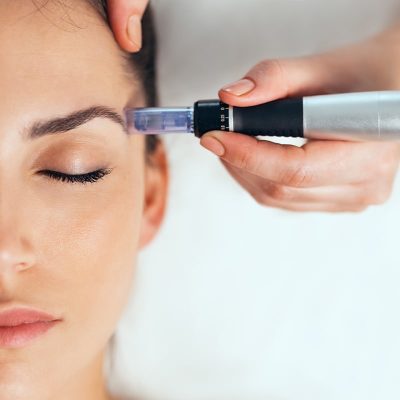 Genosys bio revitalization is a treatment in which a carefully selected cocktail is injected into the skin with microneedles, better known as dermapen. This procedure is recommended for patients with dehydrated skin, enlarged pores, scars, wrinkles, uneven complexion, and dark circles. Depending on the skin problem, the treatment is repeated every two weeks to a month.
Dermatological and aesthetic treatments are now safer, faster, and more effective with the Candela Nordlys laser.
The device uses 3 different technologies – Nd:YAG1064, Frax 1550, and Ellipse IPL. These three technologies have enabled dermatologists to provide their patients with more effective, faster, and safer treatments for over 21 indications. The device also has SoftCool, a cooling function that reduces heat and pain and makes the treatment much more pleasant and less painful.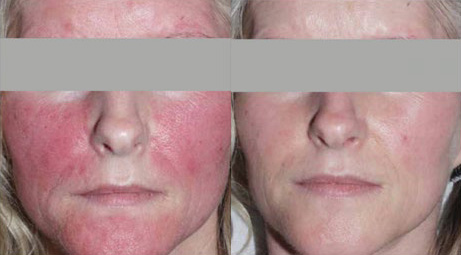 20% of the population has this type of problem. Redness, pimples, and inflamed skin conditions can now be effectively solved with the Nordlys laser, where a visible effect after the first treatment. Not only the rosacea symptoms are reduced, but with this treatment, we also get an improvement in the overall tone of the skin.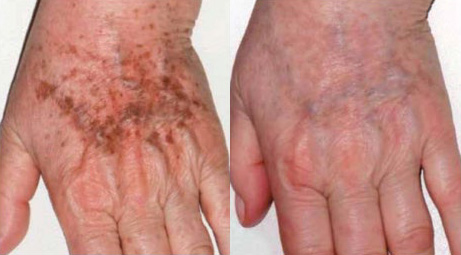 Hyperpigmentation and dark spots removal
Dark, brown spots and stains on the face, and pigment changes, as a result of sun damage, acne, or some other inflammatory conditions, can be effectively treated and removed with the Nordlys laser, resulting in a glow and even complexion.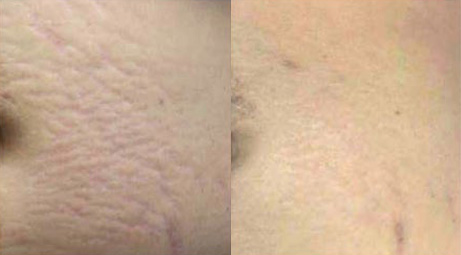 Laser stretch mark removal is the only way to reduce and eliminate stretch marks, and no other method is as effective as this one. Candela Nordlys laser can treat red and older, white stretch marks.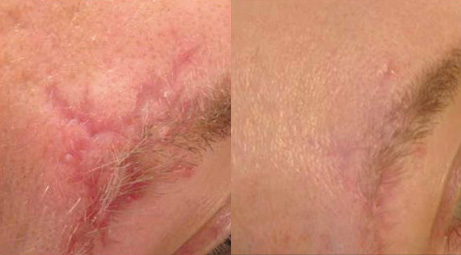 Candela Nordlys laser successfully treats scars caused by surgical interventions, acne, and cuts…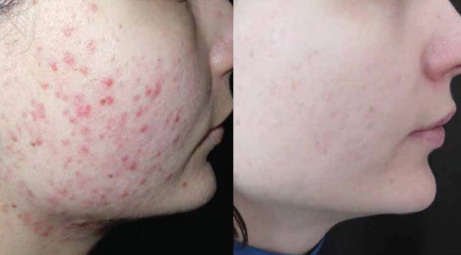 Candela IPL kills the inflammation-causing bacteria found in our skin. After just one treatment, acne is reduced by over 90%.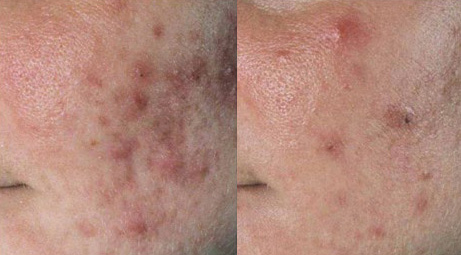 The Nordlys IPL laser beam works by reducing blood flow and directly reducing skin inflammation. And more importantly, there is a reduction of spots and scars that appeared in the place of the previous acne.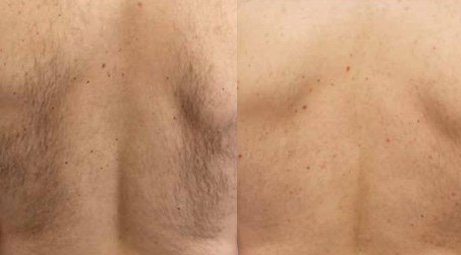 Nordlys Ellipse IPL provides you with an effective and permanent hair removal solution The latest technology maximizes the treatment effectiveness, preventing hair regrowth, and softer and smoother skin. This laser intervention is pleasant, thanks to the new cooling technology.
Winner of the Laser of the year award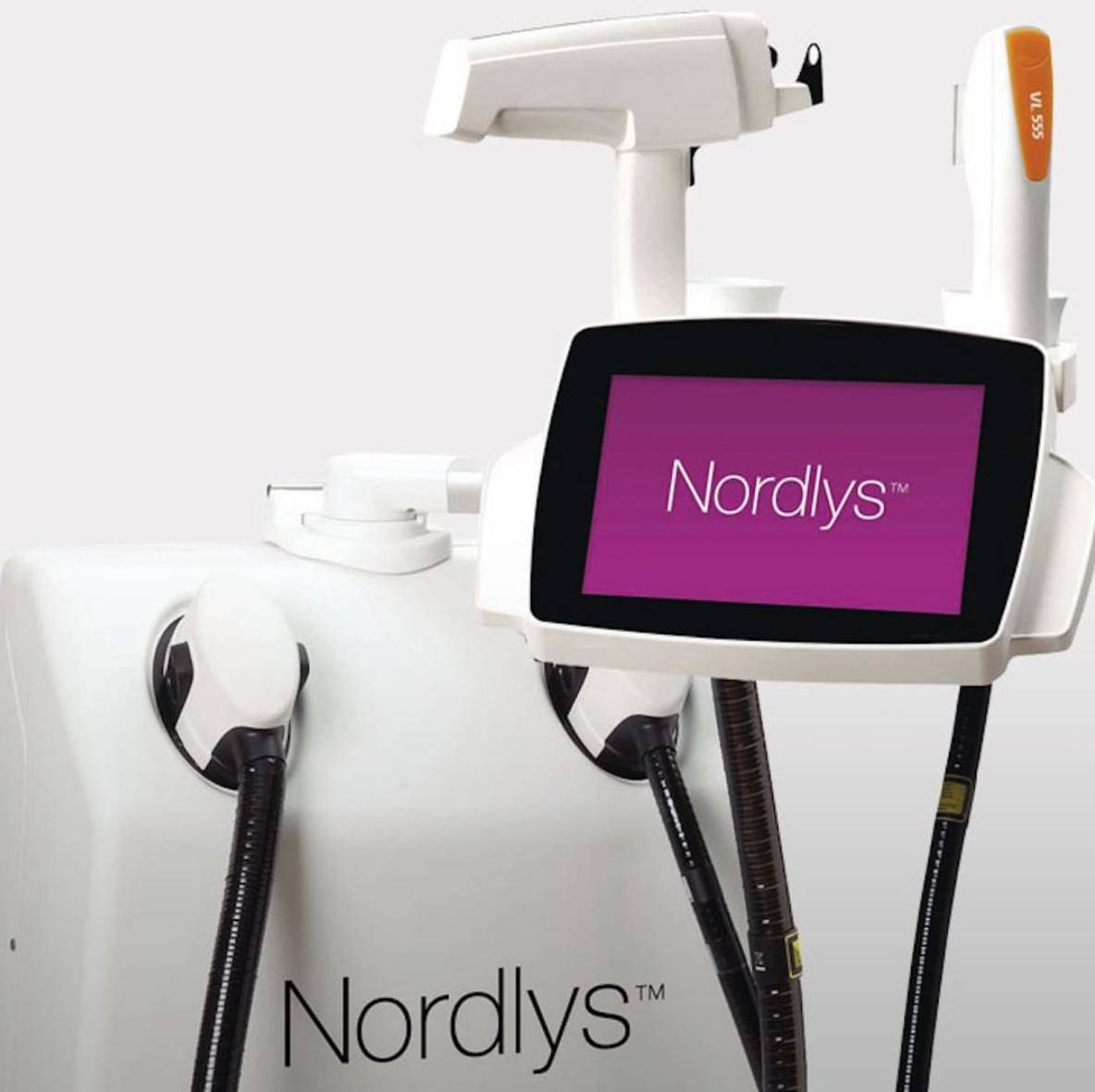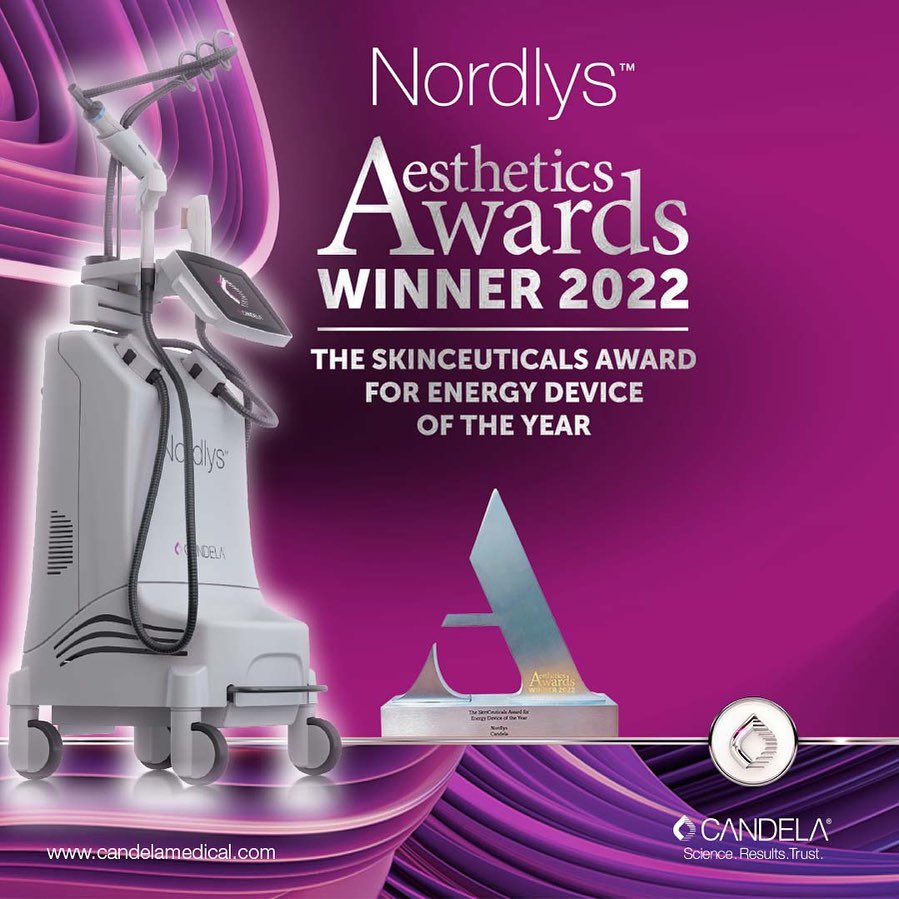 | | |
| --- | --- |
| Appointment with specialist | 3000 rsd |
| Follow up appointment | 2000 rsd |
| Dermoscopic treatment up to 2 skin changes | 2000 rsd |
| Dermoscopic treatment 3 and more skin changes | 4500 rsd |
| Skin analysis / specialist consultations | 2000 rsd |
| Radiowave treatment up to 3 skin changes | 4000 rsd |
| Radiowave treatment 4-6 skin changes | 5000 rsd |
| Radiowave treatment 7-9 skin changes | 8000 rsd |
| Radiowave treatment 10 or more skin changes | 10000 rsd |
| Facial treatment | 2900 rsd |
| Acne treatment | 5000 rsd |
| Acnelan treatment | 12000 rsd |
| PDT | 1000 rsd |
| Liquid nitrogen skin treatment / 1 skin change | 600 rsd |
| Intramuscular injection | 500 rsd |
| Mesotherapy I | 7000 rsd |
| Mesotherapy II | 10000 rsd |
| Mesotherapy III | 12000 rsd |
| Mesotherapy (focused area) | 5000 rsd |
| Lipolysis 1 area | 7000 rsd |
| Lipolysis 2 areas | 10000 rsd |
| Botulinum toxin I | 18000 rsd |
| Botulinum toxin II | 30000 rsd |
| Botulinum toxin III / Hyperhidrosis | 36000 rsd |
| Hyaluron filer I | 15000 rsd |
| Hyaluron filer II | 30000 rsd |
| Hyaluron filer lips 0.55ml | 18000 rsd |
| Prophilo | 27000 rsd |
| PRP Face treatment | 10000 rsd |
| PRP facial treatment with hyalift | 14000 rsd |
| PRP hair treatment | 12000 rsd |
| PRP Cellenis | 18000 rsd |
| PRP Cellular Matrix | 24000 rsd |
| Dermapen | 6000 rsd |
| Dermapen Genosys | 8000 rsd |
| Dermapen Genosys / deep treatment | 9000 rsd |
| Chemical peeling I | 5000 rsd |
| Chemical peeling II | 6000 rsd |
| Chemical peeling III | 8000 rsd |
| Carbon peeling | 3000 rsd |
| BTL EXILIS ELITE whole face treatment | 5000 rsd |
| BTL EXILIS ELITE chosen area | 3000 rsd |
| Pressotherapy (BTL lymphastim) | 1500 rsd |
| Medical pedicure | 2500 rsd |
| Medical pedicure / laser treatment | 3000 rsd |
Laser treatment Candela, ND Yag, IPL
| | |
| --- | --- |
| Laser treatment (SCARS) chosen area | 6000 rsd |
| Laser treatment (STRECH MARKS) chosen area | 12000 rsd |
| Laser treatment (CAPILLARY) chosen area | 6000 rsd |
| Laser treatment (ROSACEA) chosen area | 6000 rsd |
| Laser treatment (PIGMENTATION) chosen area of a smaller size | 6000 rsd |
| Laser treatment (PIGMENTATION) chosen area of a larger size | 10000 rsd |
| Laser Hand Rejuvenation | 6000 rsd |
| Laser treatment whole face ANTI-AGING (Frax laser) | 18000 rsd |
| Laser capillary treatment / Hemangioma (one area) | 3000 rsd |
| Leg capillary, (one area) (ND Yag, Candela) | 12000 rsd |
| Photorejuvenation Candela | 10000 rsd |
| Laser acne and acne scars treatment | 10000 rsd |
Laser permanent makeup removal treatment ND Yag Q-Swich
| | |
| --- | --- |
| Laser permanent eyebrow makeup removal treatment | 4000 rsd |
| Laser body tattoo removal treatment up to 5cm | 5500 rsd |
| | |
| --- | --- |
| Upper lip area | 1500 rsd |
| Chin / cheekbones / sideburns | 2000 rsd |
| Jowls | 3000 rsd |
| Chin and jowls / chin and upper lip area | 3500 rsd |
| Whole face | 4500 rsd |
| Armpits | 3500 rsd |
| Hands (area below elbows) | 3500 rsd |
| Hands | 5000 rsd |
| Chest area / areolas / stomach hair line | 2000 rsd |
| Stomach / gluteus / lower back area | 4500 rsd |
| Thighs | 4000 rsd |
| Intimate part | 5500 rsd |
| Intimate part with gluteus | 7000 rsd |
| Legs (half) | 7000 rsd |
| Whole legs | 9000 rsd |
| | |
| --- | --- |
| Cheekbones / sideburns | 2500 rsd |
| Neck – front / back area | 3000 rsd |
| Whole neck | 6000 rsd |
| Armpits | 5000 rsd |
| Hands | 8000 rsd |
| Chest / stomach / shoulders | 7000 rsd |
| Chest and stomach | 10000 rsd |
| Back | 10000 rsd |
| Back and shoulders | 12000 rsd |
| Legs | 16000 rsd |